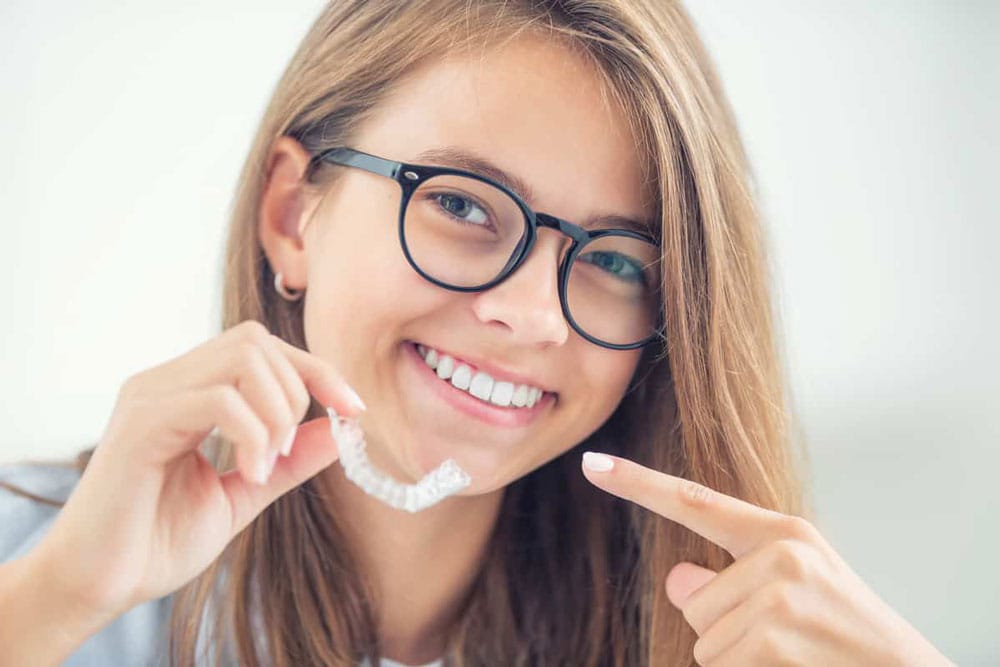 Looking your best during your teenage years is important. Get the smile you need to feel comfortable in your own skin with Invisalign from Riverbend Orthodontics and Oral Surgery.
How often do I have to wear my aligners?
Teens need to wear their Invisalign aligners for 20 to 22 hours each day. This means they'll only be able to remove them for eating, drinking, playing sports, or other short periods. However, since they're so comfortable, this shouldn't be a problem — they'll likely forget they're there at all.
Is there anything that I cannot eat while using Invisalign?
No! There are no food restrictions during Invisalign treatment. Just make sure to remove the aligners before eating or drinking, as well as brush your teeth before reinserting them. Otherwise, they could get stained or damaged, which could delay treatment progress.
How long does Invisalign take?
There's no set time for Invisalign. Since everyone is different, treatment lengths are also different. That said, most patients complete their Invisalign treatment between 12 to 18 months. We'll help you get a better timeline when we see you during your initial consultation. After taking a look at your orthodontic issues, our doctors can create a customized plan of care based on your needs.

How does Invisalign Teen work?
Invisalign Teen is nearly the same as normal Invisalign treatment, but it's custom tailored specifically for teenagers. There are no brackets, metal, or other uncomfortable components — just clear, plastic aligners your child wears for the majority of the time. Because teenagers might not have all of their permanent teeth yet, Invisalign Teen aligners come with eruption tabs built in to compensate for this. These tabs leave space for the teeth that haven't emerged from the gums so they aren't damaged or pushed out of place.
At the first appointment, our doctors will use a computer to create a 3D impression of your teen's mouth. Then, these images will be used to create custom aligners. Your teen will wear each aligner for one to two weeks at a time, after which, they'll receive a new aligner to wear. This gradually helps the teeth move into the desired position with far less discomfort than braces.
What happens if my teen loses an aligner?
It's more common than it sounds — teens might accidentally throw away an aligner after lunch or leave it at a restaurant. If this happens, all is not lost. All you have to do is contact us for a replacement set of aligners. If your teen was almost ready for the next aligner anyway, we'll likely just skip ahead to that one. Or, if they had just receiver the old aligners, we can give them a duplicate copy to keep their treatment on schedule.
Are there any food restrictions?
There are no food restrictions with Invisalign. That's because the aligners are completely removable, so they don't get in the way of eating. This is a huge benefit over braces, which can prevent you from eating hard or sticky foods throughout the duration of your treatment.
How much is Invisalign for teens?
The cost of Invisalign is different for every teen. That's because some teens might require more or fewer aligners to reach their end goal. Because of that, it's difficult to quote a price without first seeing the patient. That said, Invisalign treatment is typically the same price as braces. For a more accurate estimate, schedule an initial consultation with our doctors. We offer affordable, quality care for the whole family.

Benefits of Invisalign
Still on the fence about Invisalign? There are a ton of benefits you'll see when you choose this treatment.
You can continue to enjoy the foods you love!
No wires or brackets that can break or cause pain.
Cleaning teeth is easy — just remove the aligners to reach in between teeth and gums.
Easy for athletes to continue playing sports.
Great for musicians who play a wind instrument.
Can be easily removed for a special event, like a graduation or a school dance.
The aligners are invisible, meaning teens don't have to be self-conscious about their appearance.
Live your life without compromise when you choose Invisalign from Riverbend Orthodontics and Oral Surgery. Contact us today to schedule your consultation and get started.