iTero Element
Riverbend Orthodontics is a completely digital orthodontic practice in Charlotte, NC. We are proud to offer our patients the ease and convenience of iTero® Element™ intraoral scanning.
The iTero Element is an optical impression system (CAD/CAM) used to record topographical images of teeth and oral tissue, utilizing a compact hand-held wand. Data generated from iTero may be used in conjunction with the production of your traditional braces, or with Invisalign® clear aligners. Not only is an iTero Element digital scan far more comfortable than the old putty-based impressions, but it's faster and provides images that are more precise.
iTero Element software is used with the iTero Element scanner in capturing 3D digital impressions of teeth, oral soft tissue, and structures, and bite relationship. The software controls the processing of the data, integrates the data, and exports that data to fabricate your orthodontic appliances. In addition to scan data, we can also import and export your case information to simulate what your new smile will look like.
iTero digital impressions are great for people with gag reflexes since there isn't any putty used in the mouth. They are also more accurate than traditional alginate or PVS materials. Since the impressions are digital, they allow for faster turnaround times on Invisalign aligners and create a more precise fit.
During the scanning process, our orthodontists will use the iTero Element Scanner's wand to capture images of your teeth and gum tissue. You can breathe or swallow as you normally would. You can even pause during the process if you need to sneeze or just want to ask a question. The iTero Element Scanner will give us a 3D model of your mouth that we can use with all orthodontic services, including the Invisalign Outcome Simulator, to show you what your new smile might look like.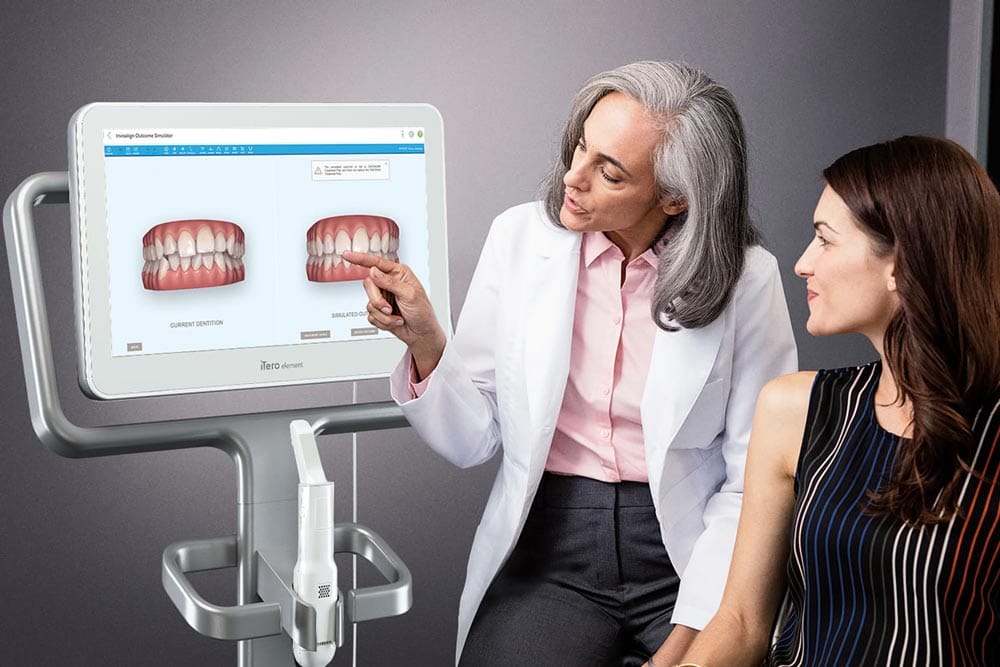 Propel Orthodontics
We are excited to offer accelerated orthodontic treatment with Propel Orthodontics! If you're interested in improving the aesthetics of your smile but are put off by the thought of having to spend months or even years in braces, Propel could be right for you. This state-of-the-art technology speeds up tooth movement, and though every patient's situation is different, many can now have their orthodontic treatment completed in less than a year.
Over the past 20 years, new treatment options have made our patients' orthodontic experience more efficient, but not necessarily faster. That is, until now!
Propel works with your own biology by stimulating the bone surrounding your teeth. It helps your teeth to move faster and more predictably into their ideal position. This allows you to see your new smile faster and requires fewer visits to our office. Propel can be completed right here in our office and does not require any invasive surgical procedures.
In addition, Propel treatment involves very little discomfort. There is zero recovery time and you will be able to return immediately to your normal daily routine.
Propel can be used for approximately 80% of patients receiving orthodontic treatment, and can be used in conjunction with any treatment type, including TADs, clear aligners, clear braces, and conventional metal braces. To learn more, contact our office!
AcceleDent Aura
You want to improve the look of your smile, but does the thought of spending years in braces seem out of reach? With AcceleDent Aura, you can now speed your tooth movement by up to 50%! Using this fast, safe, and easy-to-use appliance, you'll be finished with your orthodontic treatment and achieve your desired smile faster!
It's Fast.
AcceleDent Aura is a lightweight, comfortable, and hands-free appliance that is used 20 minutes per day as a complement to orthodontics. The exclusive SoftPulse Technology's® precisely-calibrated micro pulses gently accelerate the movement of your teeth as guided by your orthodontics.
It's Gentle.
With patented SoftPulse Technology, AcceleDent Aura's vibration is a safe approach for accelerating tooth movement. In fact, the force applied to teeth during ordinary chewing is at least 200x greater than the force applied with AcceleDent Aura.
It's Safe and Reliable.
AcceleDent Aura is safe as demonstrated in U.S. clinical trials. AcceleDent has been prescribed to thousands of patients worldwide since its introduction in 2009. Cleared by the United States Food and Drug Administration, AcceleDent is only available by prescription from your orthodontist.